New Clubhouse Rules - Sep 25
Following the latest Covid-19 laws with which we have to comply, we have updated our clubhouse rules.
Here are the updated rules for everyone entering the clubhouse:
Please sanitise your hands as often as possible. The sanitising stations are placed throughout the clubhouse at the entrances, exits, bar, and toilets.
Face masks must now be worn at all times inside the building. They can only be removed once you are seated at a table.
You must remain seated and not walk between tables or sit with other groups. The only reason to walk around the function room is to go to either the toilet or exit.
The call for last orders will be at 9 pm, and the staff will stop taking orders at 9:30 pm. The clubhouse and balcony must be vacated by 10 pm without exception.
The bar is now operating with table service only. You must not queue or order via the bar. Please find a table when you enter, and staff will come to your table, confirm you have signed in, and take your orders & payments.
Anybody entering the building is required to sign in for the NHS track and trace program. We have two signings in methods, either can be used.
1. Sign in via our track and trace book at the entrance to the bar
2. Download the NHS Covid19 app and scan the QR/Bar code located on the front door & inside the bar.
Practice responsible social distancing at all times.
The rule of six applies at all times within the clubhouse. No more than six people at the tables with adequate seating. If there is not enough seating for six people, please ask a staff member who will assist in accommodating you. Staff members must only move furniture.
Only one person may enter the toilets at a time and must lock the door behind them once they have entered.
Please be patient & respectful of the rules and our staff and customers at all times. We would much rather be serving you drinks than telling people what to do! These are challenging times & we are all in this together, folks.
If there are any questions, please speak to me.
Thank you for supporting your club.
Dave Stockdale
Club Steward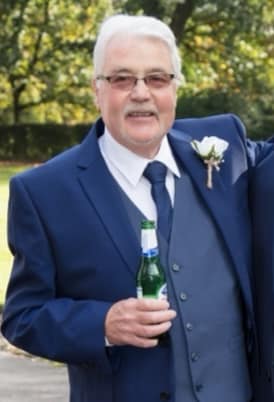 Sadly Missed - September 20
Deeply saddened and shocked by the loss of a popular and great member, John Roberts. Our hearts go out to John's friends and families today. John, you will be sadly missed.
Thanks to Paul, Antony, and all our great volunteers for their continuous hard work out on the fairways!
It is named after the renowned Lakeland author Alfred Wainwright, who was born in Blackburn. Wainwright is a 4.1% ABV golden ale.
With Inviting citrus aroma, lightly hopped with subtle sweet notes and delicate citrus fruit flavours throughout.
It's now on draught at our bar. Come in for a pint!
Tapas Night! Flag of Spain
Tapas fan? Join us on Friday, 9th October, for a bit of delicious Spanish cuisine.
Telephone receiver Call John on 07399874006 to book your spots! (limited spots available)