Champs Dinner, winners L - R - Oct 1
Geoff – Presidents & Thurs Flask
John – Victory Bowl & Vets
Sean – Whitaker
Brad & Ollie – Winstanley
Will – Marsden
Andy – Club Trophy
Mark – Low Gross
Nathan – Captains, Woodhouse & Club Champs
Chris – Entwistle Cup
Patrick – Anniversary Trophy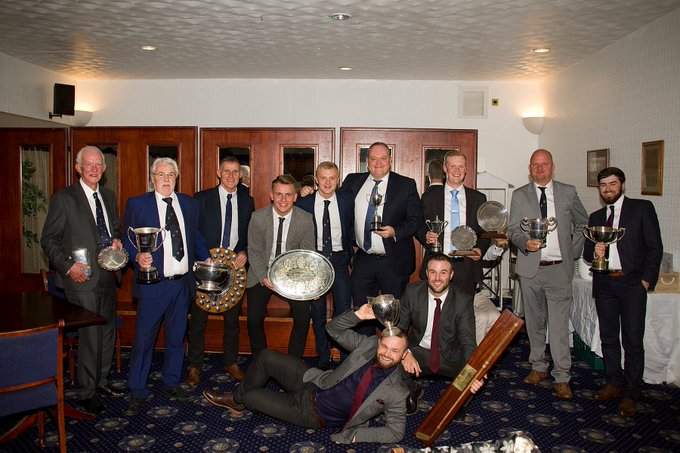 Join Flixton G. C. for only £325 on our flexible membership category in partnership with @PlayMoreGolf
Join now and don't renew until January 2021.
Join within 48 hours of your enquiry you will also receive 10 extra points!
For more information visit https://playmore.golf/clubs-courses/
To all voting members of the club
We are holding an E.G.M. meeting on Wed 6th November at 7.30pm in the Clubhouse
The dress code for this meeting is smart casual.
Copies of the agenda will be available from the Administrator by email, post or in person from tomorrow 29-10-19
Seniors Team Open
1st D.Markall C.Tetlow C.Mulhearn R.Bamford. 53.7
2nd D.Craig D.Robertson D.Reynolds P.Cutterbuck 55.2
3rd K.Moore J.Sherard I.Hill R.Burns 64.3
Nearest pin K Moore
Raffle – 1st P Sullivan 2nd R Burns
Results for 9th Medal Cup Qualifier
Oliver Ranicar won going out in 37 coming back in 36 with 3 birdies and 10 pars beating David Fielding by 3 shots.
Oliver Ranicar 73 – 6c = 67
David Fielding 85 – 15c = 70
Karl Frankland 78 – 7c = 71
Results for Anniversary Trophy
Patrick Moloney won going out in 41 coming back in 40 with 1 birdie and 9 pars beating Oliver Ranicar by 2 shots.
Patrick Moloney 81 – 14c = 67
Oliver Ranicar 76 – 7c = 69
Nicholas Moors 82 – 13c = 69
Saturday 9th November
"Double Take That"
£15 each including hot food
Food served 7.30 to 8.30pm
Music begins at 8.45 PM
Contact the club to reserve tickets
Welcome to John Ratcliffe and his wife Cheryl who have started today as our new caterers.
We currently have a vacancy for a 'live in' bar Steward/Stewardess to join our team.
For further details please contact the club, previous applicants need not reapply